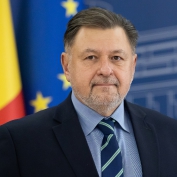 Alexandru Rafila
Speaker
Professor Alexandru Rafila has graduated medical school in 1987, receiving a Ph.D degree in Microbiology in 2004. Serving people for more than 30 years as a medical doctor, he was also the Head of te Microbiology Department of University of Medicine and Pharmacy "Carol Davila" and of the Laboratory of the National Institute for Infectious Diseases "Matei Bals" in Bucharest, playing an important role in its founding. He is also author of several articles, handbooks and guidelines for public health and microbiology.
Having a vast experience in the Romanian public health system (former Director of the National Institute for Public Health, State Secretary for Medical Assistance and Public Health, several times Personal Counsellor of the Minister of Health), Professor Rafila also has a remarkable international public health activity – working closely with ECDC, the WHO Euro Regional Office and the European Commission. From 2009 until 2014 he represented Romania in the Management Board of ECDC and was Member of the Standing Committee of the Regional Office for Europe of WHO between 2014 and 2017, when he was elected member of the Executive Board of the WHO for a mandate of three years.
Before his nomination as Minister of Health in November 2021, Professor Rafila was elected in the Romanian Parliament, serving from December 2020 as Vice-president of the Chamber of Deputies and member of the Committee for Health and Family. From these positions he worked closely with the key national institutions in the area of public health, aiming to develop people centered health policies.
Also, until his election as member of the Romanian Parliament, he greatly contributed to engaging multiple key stakeholders in relevant debates on health policies, as Director of the Healthcare and Quality of Life Program of Aspen Institute Romania. Currently, he is member of the Aspen Healthcare & Quality of Life Advisory Board.