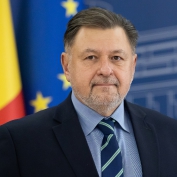 Alexandru Rafila
Member
Professor Alexandru Rafila was appointed Minister of Health of Romania on November 25th 2021. He was previously Deputy Speaker of the Romanian Parliament.
Prof. Rafila has served in central administration as Secretary of State, General Director for Public Health and several times as Personal Adviser of the Minister of Health. He is a previous Director of the Public Health Institute Bucharest.
Dr. Rafila is the elected President of the Romanian Society of Microbiology and is currently the Chief of Microbiology Department of University of Medicine and Pharmacy "Carol Davila". He received his medical degree in 1987 and attained a Ph.D. degree in Microbiology in 2004. He has been a senior specialist in Microbiology and Public Health since 2000.
In addition to his standing in his own country, Professor Rafila's expertise is recognized internationally as expert by WHO, NATO and European Commission. He was Member of Standing Committee of WHO Regional Office of Europe and represented Romania in the Management Board of ECDC. In 2018 he was elected to represent Romania in the Executive Board of WHO.
Professor Rafila is active organizer and participant in many national and international medical conferences and events on public health and microbiology.  Dr. Rafila has authored articles, manuals, book chapters and guidelines for public health and microbiology practice.